Family Baking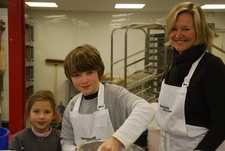 (limited to 2 children, aged between 6-12, per adult)
Baking is something the whole family can enjoy doing together. Children love to mess around with dough, and it's a great way to introduce kids to food made from scratch. We'll make bread and rolls, cookies to cut into fun shapes and decorate, plus a quick and easy cake.
Course dates
Sorry, there are no courses available at the moment.