Introduction to Baking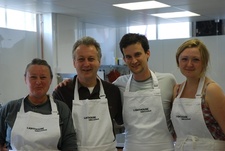 For people who have little or no baking experience, here's an opportunity to get to grips with yeast and fermentation and handling doughs through all stages of the bread-making process. We will make white and wholemeal breads and an enriched dough. You will leave with a much greater understanding of what makes bread "work" and the confidence to do it yourself at home.
Course dates
Sorry, there are no courses available at the moment.