The Wild West of Baking - Sourdough and Pre-Ferments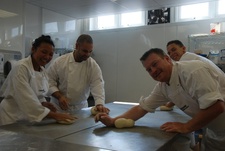 This course is aimed at people who have had some experience of baking bread but who want to learn more and raise the level of their understanding. We discuss recipe-building and methods beyond the straight dough process, including sourdough and the family of pre-ferments: the sponge, the Poolish, the Biga, and pâte fermentée.
Course dates
Sorry, there are no courses available at the moment.